At Work for You
Every customer looks to Raymond of New Jersey to provide a wide range of strategic solutions that specifically satisfy their diverse application and operational needs. To successfully follow through on our promise, and deepen our long-term partnerships, we offer a portfolio of products, services and capabilities that we can tailor to your specific needs:
The complete portfolio of Raymond electric lift trucks, the only line that achieves the ultimate balance between energy efficient engineering and productivity to dramatically increase performance.

The complementary line of Clark internal combustion, diesel and electric forklift trucks along with the specialized industrial vehicle line-up from Columbia ParCar to move your products more efficiently.

A diversified range of systems integration services, storage and allied solution options that can be applied to satisfy your exact operational needs.

The only suite of customized fleet services programs that enable customers to reduce overall operational costs by up to 25% and allow our customers to review fleet performance and operational cost reports 24/7/365.

The most comprehensive and recurring lift truck operator and customer technician training programs that establish organizational benchmark safety and performance standards.

24/7/365 parts and service programs that increase uptime and keep your operations running at peak efficiency.

Flexible financial merchandising strategies for all your lift truck lease, rental or purchase needs. Customized programs can be designed to meet your individual needs.
A proven track record of developing solutions that increase supply chain efficiency.
When it comes to continuous improvement in supply chain management, our customers understand that efficient material handling is key to the success of their warehouse and distribution operations.
To consistently improve their processes, organizations partner with the experts at Raymond of New Jersey to develop and deploy proven solutions that reduce operational costs and boost productivity throughout their facilities.
They partner with us not only because we understand that material handling is much more than just "handling materials." They partner with us because they know we have spent thousands of hours in dozens of types of facilities in a range of different industries. That we've acquired industry-leading knowledge about customer processes and expectations, and all of the intricate elements that comprise material handling, including facility design, layout and space utilization strategies, engineering, lift truck fleet management, systems integration, storage and slotting, and more.
We invite you to come and experience the difference that kind of experience makes. And to discover how our unique strategic approach—called CustomCare™- produces dividends for each and every one of our customers.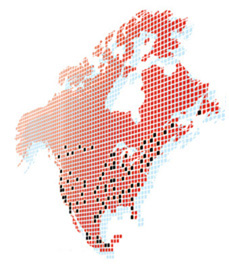 Raymond Sales & Service Center Difference
Raymond of New Jersey is also a Raymond Authorized Sales & Service Center, the industry's only 100% integrated network of material handling solutions experts that collectively operates over 100 strategically located facilities across North America.


Through this exclusive relationship, Raymond of New Jersey gives customers the flexibility to expand nationwide while enjoying the same high levels of sales, service and support they have come to trust from Raymond of New Jersey.


Because we are fully integrated, we are able to consistently share best practices information and expertise across the network. Which means you get to benefit from the skills, knowledge and experience of the entire Raymond enterprise—over 6,000 people strong.


With decades of experience successfully satisfying our customers' needs on a daily basis, Raymond of New Jersey is the company you can trust for material handling solutions that will make a difference. For you. For your company. And for your bottom line.
Contact Us
Please complete and submit the form below for more information on Raymond of New Jersey and how we can impact your business, or give us a call at (908) 624-9570.